G Suite From Google Cloud
G Suite From Google Cloud (formerly Google Apps for Work) is a suite of cloud computing productivity and collaboration software tools and software offered on a subscription basis by Google.

It includes Google's popular web applications including Gmail, Google Drive, Google Hangouts, Google Calendar, and Google Docs.

G Suite From Google Cloud adds business-specific features such as custom email addresses at your domain (@yourcompany.com), at least 30 GB of storage for documents and email, and 24/7 phone and email support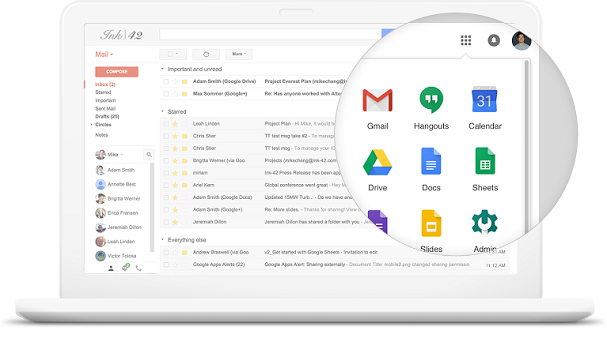 30GB Storage
Nearly unlimited storage on Google's cloud platform is integral part of how Google enables collaboration.
99.9% Uptime
With 99.9% uptime, G Suite From Google Cloud never lets you down.
Email On-The-Go
With mobile support for the complete suite of apps, work will never stop and business will never sleep.
Secured By Google
G Suite From Google Cloud comes with multi-factor authentication and strong encryption for data sent over the internet and when it is stored in data centers.
24/7 WebeCreator & Google Support
You will always find a helping hand close by with support coming from both WebeCreator as well as Google.
No Advertising
Completely ad free suite enhances your team's ability to focus on work and get more stuff done.