Voice SMS
Overview :
Overview of bulk voice sms solutions :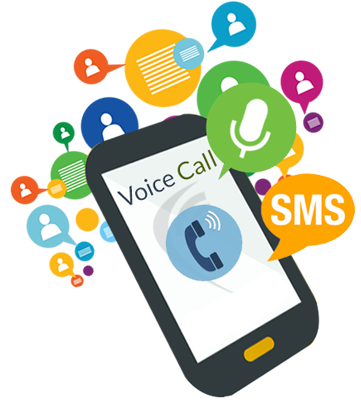 A voice SMS is a pre-recorded voice message (usually less than 30 seconds) that can be sent to multiple users (mass group of people) simultaneously. Voice SMS can be sent in your own recorded voice and in regional languages as well to give it a more personal touch. WebeCreator Voice SMS application fits all you needs and business requirements. We design our infrastructure for all type & size of business. High speed, highly scalable cloud setup, 10G network, Huge capacity ensure Fast, Reliable & Secure Categories.

Bulk Voice SMS solutions is a revolutionary communications technology that delivers a recorded voice message to hundreds or even thousands of call recipients in a very short period of time. Bulk Voice sms Categories which is also called Voice call service, by using this service any business can communicate with it potential customer by sending pre recorded voice message through a fully automated Online System.
Features :
Features of bulk voice sms solutions :
High Availability

Cloud infrastructure, multiple operators on each location, redundant power supply, redundant network, cloud infrastructure, 24x7 live monitoring ensures you continue service.

Huge Capacity

We have huge capacity due to own cloud datacenter optical fiber connectivity with operator. We are able to process a "Million" voice call in a day. Reach more people in less time.

Quick Setup

We believe in robotic process so you need not to wait for hours to get a complete setup. Your account is setup in 60 seconds; even you may use your own number for voice SMS broadcasting.

Detailed Reports

You can easily get complete report of your voice SMS marketing campaign in web based control panel. You can also easily track who received your voice call and who did not.

Cost Effective

We commit to provide best pricing in industry. We cover 95% of networks worldwide. As per your need you find one stop solution. You only have to pay for used service.
Benefits
Benefits of bulk voice sms solutions :
Voice calls have very important role in business, size doesn´t matter but quality does matter for business. Automated voice calling solves telecommunication problems like bill reminders, notifications, alerts feedback & business promotions etc. Proactive dialing increase your telemarketing approach, voice communication improve your engagement with your clients.

Voice SMS broadcasting (Bulk voice calls, Voice Blasting, bulk calling) is used for wide scale communication via phone calls . It's used for notifications, alerts, reminders, polls, survey & promotional purposes. It broadcast recorded message, Dynamic text to speech converted messages.

Improves Productivity - It improves your business productivity. By Voice SMS broadcasting your message is delivered instantly and accurately. Thereby, helping you improve your business productivity and response.
Contact Us Now
WebeCreator, a leading Voice SMS solutions provider offers an extremely user friendly interface for sending bulk voice calls in reasonable rates to suit your business needs!